A delicious idea by Vasso – Μια νόστιμη ιδέα από τη Βάσω (i-messy)
A quick and easy recipe to satisfy your desire for chocolate! Made with simple ingredients that usually are not missing from the cupboard, this recipe will satisfy the demands of the most fervent chocoholics!
Μία συνταγή εύκολη και γρήγορη για να ικανοποιήσετε απόλυτα τις σοκολατένιες ανησυχίες σας! Φτιαγμένη με απλά υλικά που συνήθως δε λείπουν από το ντουλάπι, ικανή να πείσει και τους πιο απαιτητικούς λάτρεις της σοκολάτας!
MATERIALS:
240gr (0.53lb) Dark chocolate or milk chocolate for desserts
220gr (0.48 lb) butter
6 eggs
300gr (0.66 lb) white sugar
220gr (0.48 lb) sifted flour
30gr (0.066lb) sifted cocoa
A few drops of vanilla flavor (alternatively you can use orange zest or peel or another flavor of your choice)
ΥΛΙΚΑ:
240γραμ. κουβερτούρα γάλακτος ή κανονική
220 γραμ. βούτυρο
6 αυγά
300γραμ. λευκή ζάχαρη
220 γραμ. κοσκινισμένο αλεύρι
30 γραμ. κακάο κοσκινισμένο
Λίγες σταγόνες άρωμα βανίλιας (εναλλακτικά μπορείτε να αρωματίσετε με ξύσμα πορτοκαλιού ή οποιοδήποτε άρωμα της αρεσκείας σας )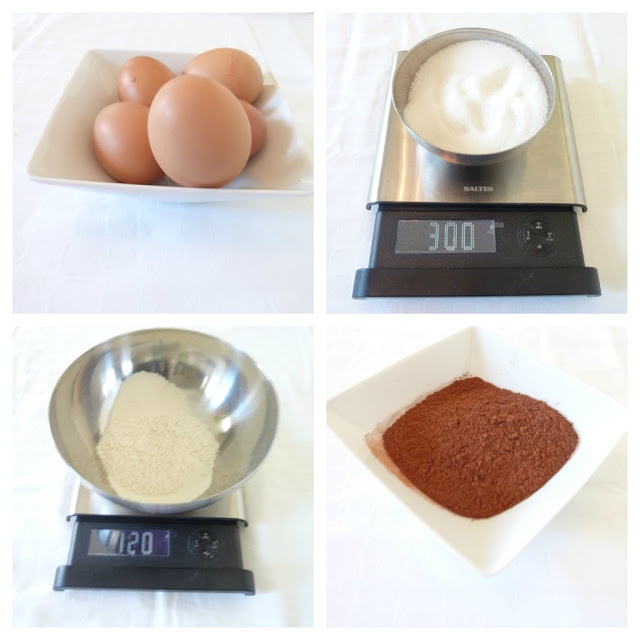 PREPARATION
Melt in double boiler the butter with the chopped chocolate. Stir well until the mixture is melted.
At the same time, beat eggs and sugar with an electric mixer on high speed for about 7-8 minutes or until mixture has thickened and turned a very pale yellow.
Add the mixture with the butter and chocolate into the second one and keep beating. Add the remaining ingredients and mix well.
Pour the mixture into a Pyrex or a cake hoop Previously, you have to coated with cold butter and sprinkle it with flour. Bake it for 25 minutes in a well preheated oven at 200oC and ready!
ΕΚΤΕΛΕΣΗ
Λιώνουμε σε μπεν μαρί το βούτυρο με την κουβερτούρα. Ανακατεύουμε καλά μέχρι να γίνει το μείγμα μας ομοιόμορφο.
Παράλληλα, χτυπάμε στο μίξερ σε δυνατή ταχύτητα τα αυγά με τη ζάχαρη μέχρι να ασπρίσουν.
Προσθέτουμε το μείγμα της κουβερτούρας στο μείγμα των αυγών, συνεχίζοντας το χτύπημα. Προσθέτουμε τα υπόλοιπα υλικά και ανακατεύουμε μέχρι να ενσωματωθούν πλήρως και τα τελευταία μας υλικά.
Αδειάζουμε το μείγμα μας σε πυρέξ ή τσέρκι με βάση, το οποίο έχουμε προηγουμένως βουτυρώσει και αλευρώσει. Ψήνουμε για 25 λεπτά σε καλά προθερμασμένο φούρνο στους 200οC.
Your Choco-delirium  is ready to be served!!! Hope you will enjoy it!!!
Το Choco-delirium είναι έτοιμο για σερβίρισμα!!!  Καλή σας όρεξη!!!!
******************************
Thank you Vasso!!!  So delicious!!!!
And if you want to discover more about Vasso, please meet her in