Ho Ho Ho…my Secret Santa is here!!!! A huge surprise actually…or should I say a box of many surprises??? It was like I found a treasury…a box with beautiful gifts inside!
Χο Χο Χο… η κρυφη Αγιοβασιλιτσα μου εφτασε!!!! Μία τεράστια έκπληξη… ή μήπως να πω καλυτερα ένα κουτι γεμάτο εκπλήξεις;;;; Ήταν στην πραγματικότητα σα να βρηκα θησαυρο… ένα κουτι γεμάτο δωρα!!!
A wishing card, another small wishing card, a small fabric heart pillow in gold tones, a pair of gorgeous dangle earrings with funny ladles and a gorgeous long necklace with handmade beads from book paper!!!! All of them unique and amazing!!!
Μία ευχετήρια κάρτα, μία μικρότερη καρτούλα, ένα μικρουλι μαξιλαρακι καρδούλα σε χρυσες αποχρώσεις, ένα ζευγάρι σκουλαρικια με υπέροχες κουταλες και ένα καταπληκτικό μακρύ κολιέ με χειροποίητες χαντρες από χαρτι βιβλίου!!!! Όλα τους υπέροχα!!!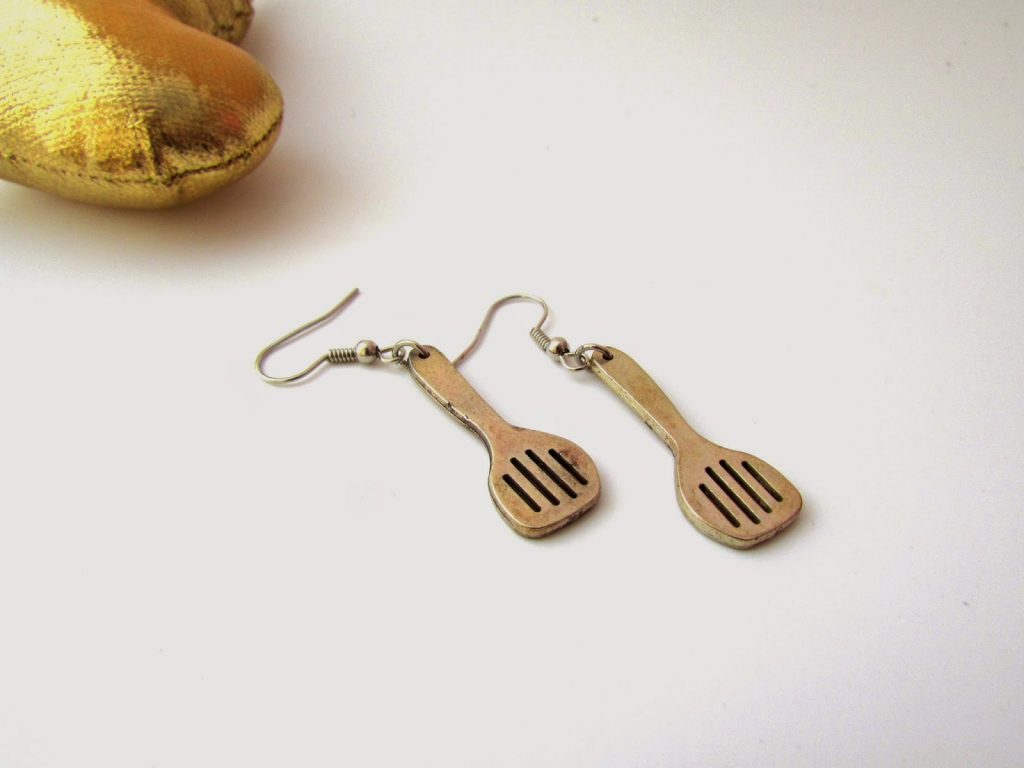 I think it's easy to guess who my Secret Santa was….ladles…ok…I will tell you! Chrisavgi from
Food for thought
!!!! Really, have you ever read her blog? You know…it's a blog that when I read I always give up my diet….I love and hate this! hahahaha! She is not just a great cook, not just an amazing food blogger but she also made beautiful and uncommon
jewels
! And both of my gifts have already became my favorites!
Νομίζω είναι εύκολο να μαντεψετε ποια ήταν η μυστική Αγιοβασιλιτσα μου…κουταλες…οκ…θα σας πω! Η Χρυσαυγή από το Λαχταριστες Συνταγες!!!! Αλήθεια έχετε διαβάσει ποτέ το μπλογκ της; Ξέρετε…κάθε φορά που το διαβαζω αποφασίζω να σταματησω τη διαιτα μου..το λατρευω και το μισω κιολας! χαχαχαχα! Δεν είναι μόνο εκπληκτική μαγειρισα, όχι μονο μία καταπληκτική blogger αλλά δημιουργεί και όμορφα και ασυνήθιστα κοσμήματα! Και τα δυο δωρακια μου έχουν ήδη γινει τα αγαπημένα μου!
I am sure that when you will visit her blog, it will be added in you bookmarks for ever!
Είμαι σίγουρη ότι όταν επισκεφτείτε το blog της, θα μπεί ως αγαπημένος σελιδοδείκτης για πάντα!
You can discover more about Chrisavgi in
Thank you Chrisavgi!!!!!!
Do you want to discover more about Secret Santa? To admire more beautiful handmade creations from beloved bloggers? Then just click
here
and you will be surprised!
Θελετε να δειτε περισσοτερα για τον Μυστικο Αγιο Βασιλη; Να θαυμασετε περισσοτερες χειροποιητες δημιουργιες από αγαπημένες bloggers; Τότε απλά πατηστε εδω και θα εκπλαγείτε!
          mats mouts