The past week was and unfortunately still is really tough. Both of my kids were sick but my baby boy remains and he is very weak, so we couldn't celebrate his 1st birthday as we would like. Hopefully we will soon! Additionally I have started to search ideas and things and materials for my prince baptism and since the clouds are going to be one of the main symbols, I couldn't resist to this gorgeous cloud ring! Of course Carolina from
Art of P
was really kind to offer me more gifts! Aren't they cute and gorgeous?
Η περασμένη εβδομάδα ήταν δυστυχως πολύ δύσκολη. Και τα δυο μικρα μου ήταν άρρωστα και ο μπέμπης ακόμα παραμένει και είναι πλέον  πολύ καταβεβλημένος, οπότε δε μπορέσαμε να γιορτάσουμε τα πρωτα του γεννάθλια όπως θέλαμε. Ελπίζω να το κάνουμε σύντομα! Επίσης ξεκίνησα έρευνα για ιδέες και πράγματα και υλικά για τη βάπτιση του πρίγκιπά μου και μια και τα σύννεφα θα είναι ένας από τους συμβολισμούς, δεν μπόρεσα να αντισταθώ σε αυτό το καταπληκτικό δαχτυλίδι σύννεφο! Φυσικά η Καρολίνα από το Art of P ήταν πολλή καλή και μου πρόσφερε μερικα ακόμα δωράκια! Δεν είναι γλυκα και  υπέροχα;
Last year (!!!) I have won a giveaway organized from
Etsy Greek Street Team
. Marietta from
Yeti toys
offered a small and uncommon and cute blue donkey! Not only I got this really beautiful gift, perfect for my handmade cute creations' corner in my bedroom (maybe I will talk about it in another post) but I also had a cup of coffee with Marietta! She is an adorable person! And if you wish to discover her unique creations with an aroma from Japan, just visit her shop
Yeti Toys
! Thank you Marietta!
Πρίν ένα χρόνο (!!!) είχα κερδίσει ένα από τους διαγωνισμούς της Ελληνικής ομάδας στο Etsy. Η Μαρριέττα από το Yeti Toys είχε προσφέρει ένα μικρό και ασυνληθιστο αλλά πολύ γλυκό μπλε γαιδουράκι! Όχι μόνο λοιπόν έλαβα αυτό το όμορφο δώρο, τέλειο για την γωνιά που έχω στην κρεββατοκάμαρα μου με χειροποιητες δημιουργίες (ίσως μπορέσω να σας μιλήσω γι αυτό σε άλλη αναρτηση) αλλά είχα την ευκαιρία να πιουμε και ένα καφε μαζι. Είναι μία αξιολάτρευτη κοπέλα! Και αν επιθυμείτε να ανακαλύψετε περισσότερα από τις δημιουργίες της με άρωμα από Άπω Ανατολή, απλά επισκεφτείτε το μαγαζι της Yeti Toys. Μαρριεττα σε ευχαριστω πολύ!
New materials also for my jewelry! I told you…I need color! I am tired of the cold and the Winter…Spring where are you????
Νέα υλικά και για τα κοσμηματα μου! Σας το είχα πει… χρειάζομαι χρώμα! Έχω κουραστεί από το κρύο και τον Χειμώνα…Άνοιξη αργεις;;;;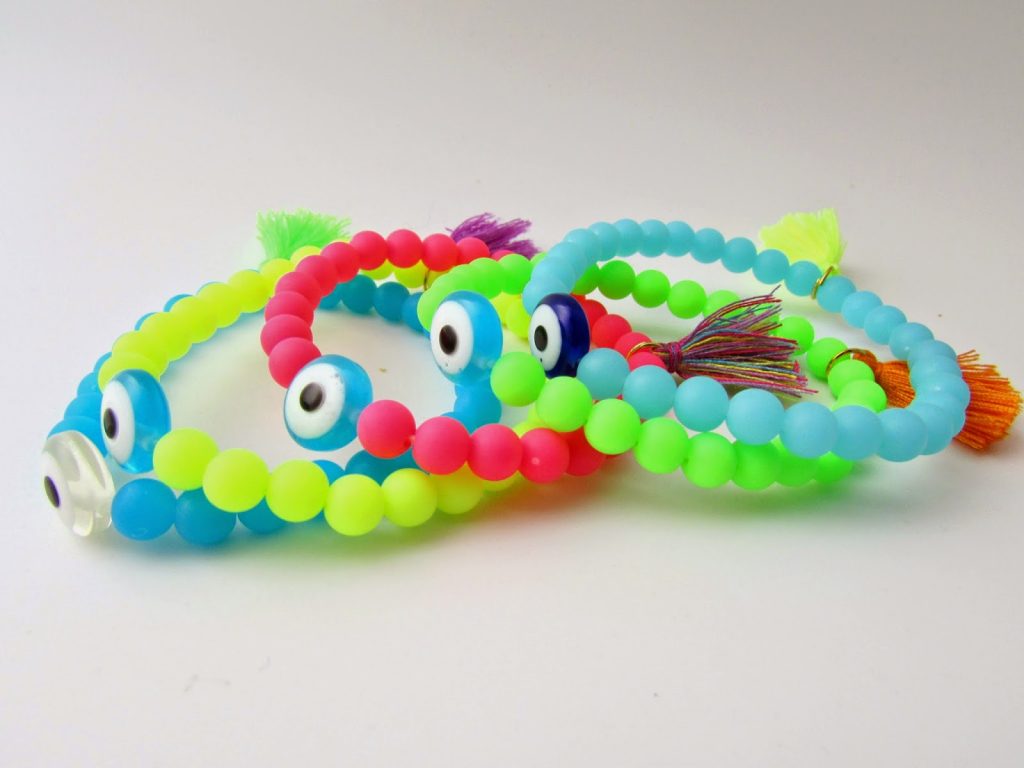 Neon color beads , evil eyes and small tassels are combined in my latest
elastic bracelets
! What do you think? aren't they great to wear them alone or stack them together for a Spring and Summer outfit?????
Έντονα χρωαματα σε χάντρες, ματάκια και μικ΄ρες φούντες συνδυάζονται στα τελευταια ελαστικά βραχιολάκια μου! Τι λέτε; Δεν είναι υπέροχα να τα φορέσουμε μόνα τους ή πολλά μαζι με ένα Ανοιξιάτικο ή Καλοκαιρινο ντυσιμο;;;;
And last but not least, 20% discount is still active with coupon code
BABY20
, valid until 4th of February!
Και τέλος, μην ξεχνάτε το κουπόνι BABY20 για 20% έκπτωση στα κοσμηματακια που ισχυει μέχρι τις 4 Φεβρουαριου! 
Happy New Week!!!
mats mouts