Having two kids means one thing… too many photos on the frigde! You know… photos from their birth, their first dance, photos just the two of them, or alone or with me or with my hubby and of course their pictures, draws, crafts and last but not least yellow small papers with notes! Problem… you need a big refrigerator and plenty of magnets!
Το να είσαι μητέρα δυο παιδιων σημαίνει ένα πράγμα… πολλές φωτογραφίες πάνω στο ψυγειο! Ξέρετε… φωτογραφίες απο τη γέννηση, με τον πρώτο τους χορο, φωτογραφίες τα δυο τους ή μονα τους ή με εμένα ή με τον καλό μου και φυσικά ζωγραφιές τους ή μουτζουρες τους ή κατασκευες τους και τέλος αλλά εξίσου σημαντικο πολλά κιτρινα χαρτακια με σημειωσεις! Πρόβλημα… χρειάζεσαι λοιπόν και μεγάλο ψυγειο και πολλά μαγνητάκια!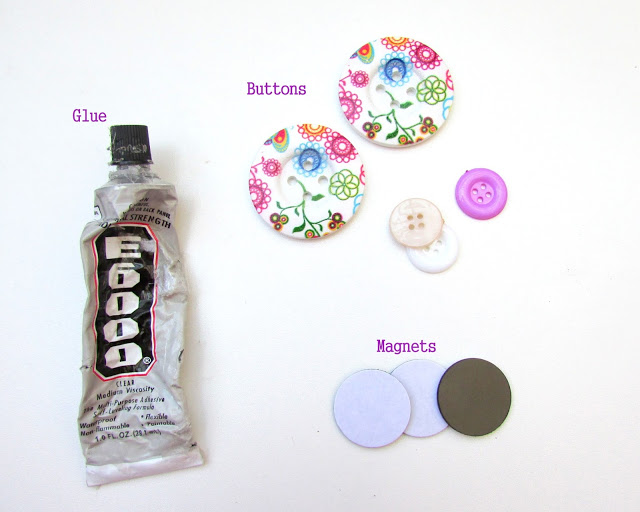 That's why I adore these kind of crafts. Simple, easy to make them, really cheap and of course you create something useful! So let's make a few adorable fridge magnets…. with Buttons of course!!!!
What we will need:
– Buttons ( I used two different sizes and types. The large wooden buttons are
here
)
– Glue ( I have used jewelry glue, but of course any kind of stable glue will be fine)
Γι αυτό και λατρεύω τετοιου είδους κατασκευες. Απλές, εύκολες, πολύ φθηνες και φυσικα δημιουργείς κάτι πολύ χρησιμο! Οπότε πάμε να φτιάξουμε μερικά μαγνητάκια ψυγειου…με κουμπια φυσικα!!!!
Υλικά:
– Κουμπιά (χρησιμοποιησα δυο διαφορετικά μεγέθη και ειδη. Τα μεγάλα ξυλινα κουμπια ειναι αυτα εδω)
– Κόλλα (χρησιμοποίησα κολλα κοσμημάτων, αλλά φυσικά οποιαδήποτε σταθερη κόλλα είναι κατάλληλη)
– Αυτοκολλητοι μαγνητες ( χρησιμοποιησα αυτους εδω
)
First just use glue on the small button and put it inside the larger one, just to make a button with more color. This step is optionally.
Αρχικά βάλτε λίγη κόλλα στα μικρα κουμπάκια και κολλήστε τα στη μέση των μεγαλύτερων, απλά και μόνο για να δημιουργήσετε ένα κουμπί με περισσότερο χρωμα. Φυσικά το βήμα αυτό δεν ειναι υποχρεωτικο.
Use the magnets and stick it in the back side of the buttons.
Κολλήστε τους αυτοκόλλητους μαγνητες στην πίσω πλευρα των κουμπιων.
Guess what… the magnets are ready!
Μαντεψτε… τα μαγνητάκια μας είναι έτοιμα!
I know…you also love these kind of diy! And I am sure that you are going to make them really easy and with more decor ideas! I forgot to mention that for this craft I have spent less than 0.6euros per magnet.
Ξέρω ξέρω… και εσείς λατρευετε τόσο εύκολες κατασκευες! Και είμαι σίγουρη ότι θα κάνετε πολλά μαγνητάκια εύκολα και φυσικά και σε διαφορετικό στυλ διακόσμησης. Ξέχασα βεβαια να σας πω ότι ο κάθε μαγνητης κόστισε λιγότερο από 0.6 ευρω. 
Happy Crafting!!!!
PS. If you love these floral buttons, check also the pins I have done with them!