Diy IKEA hack – Rotated Cake Stand! How to create fast and easy a beautiful shabby chic rotated cake stand for your party or even your decor!
It must be Spring, I cannot explain it, but I want more color in my home. And when I have replaced my kitchen table with a bigger one, which I really adora since I have more space for my crafts (!!!!), it was just the perfect time to add even more color in my kitchen! A really cute Cake Stand in Shabby chic style!
It is not a good thing to visit often an IKEA store. I do not know about you, but every time I enter one of them, I really want almost everything inside them. The only problem of course is not that much money and not that much spare room in my home! But this time, I really wanted to create something cute for my kitchen table to use it for my handmade crafts or even better to use it also as a serving utensil. I knew exactly what I wanted it, so two things to buy… the Wooden Rotating Disk and a Wooden Candle Holder I have seen online, but I also wanted to check them on the store. They were exactly what I needed!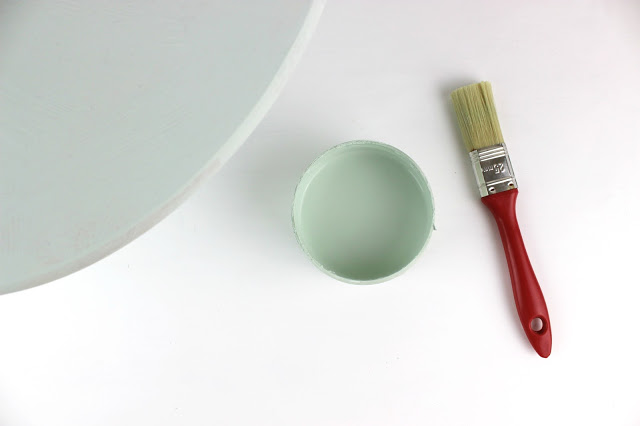 The diy is really easy, but it will take a couple of days, because actually we will paint it! So glue for wood and just attach the candle holder on the serving disk, creating in that way a Cake Stand! The colors were different, but this was not a problem, since I have decided to paint then in mint green. For that I have used a Chalk Paint (got it from here) and which actually it was really easy to use. It was my first time using a colored chalk paint, but I had good tips from Christina of Art Decoration And Crafting and the result was almost the expected… I will explain the "almost" thing! Just use a paint brush and paint the stand. Let it dry and reapeat if you wish to have more bold color. I have done mine, three times and the mint green was the one that I wanted!
Now the next step… a beautiful detail! No I have no idea how to draw, so again this time I have used a stencil! What else I used:
– Stencil (got it from here)
– Sand Fixative Spray (I used this one)
Put the stencil in the place you wish on the disk and paint. Remove it carefully and let it dry! Ok… and here is what happened to me, because it is really easy to "destroy" a craft if you are doing it on hurry… the first time I have used too much water on the acrylic color and of course the pattern was not like the stencil at all! In the beginning I almost wanted to cry! But then I react fast… I remembered what Christina did on the table she painted with chalk paint so I have used a wet tissue for babies and I tried to remove the paint. As you can imagine this not happened, but again what it happened was great!
The teal green I have used for the stencil pattern, mixed up in an amazing way with the chalk paint, creating colored waves! I liked it so much, that I let it as it was! And then i repeated the stencil painting, but this time with no water at all on the acrulic color. Let the stand dry and then use the fixative spray to protect your color from water and anything else. And we are done!
The rotating cake stand is amazing and I have decided that it is also helpful! Everytime I make a cake of cookies or anything, I use this to have them served ( I will use it also in our next party) and the rest time I have put some of my favorite crafts on it to decorate them! My Geometric Painted Vase, the Cactus Planter, the Fabric Covered Coasters and my beloved tiny Clay houses I got as a present from a beloved friend!
I have to say, that I cannot decide if I like it more as a cake stand or as a stand for crafts, but what I am sure about is that I love chalk paint I will use it in more crafts… you will see soon!