Travel Accomodation: Elea Apartment in Chersonissos Crete! A beautiful family friendly place to  enjoy your vacation in Crete
I know, it is already October and I insist to write about our Summer vacations! The reason is simple… this is the period that I organize our photos from our vacations to my beloved Crete and of course we had so much fun this year that I want to share almost everything! Now, consider that I need to spend time writting the post, so as you may understand I have a huge delay! So , do not be surprised if you see a post for a beautiful beach around Christmas!!! This year we had also the chance to stay with the kids away form Agios Nikolaos, not so far of course (!), and I wanted to share with you this beautiful apartment we used. To be honest, we did not have any plans for having this weekend's vacation in Chersonisos, but it was a suggestion from my hubby and we did it! Where we stayed? At Elea Appartment!
So, Friday morning and while we were on the beach enjoying also our coffee, my hubby proposed to visit Chersonisso. Is a beautiful small city, close to Agios Nikolaos and he never been there before. So this suggestion accepted and we decided also to spent there a couple of days. Afterall the Aquarium was also close to Chersonissos, there are many beautiful beaches and of course do not forget that we wanted to visit Water city and having fun in the pools. But having two kids it was a little bit difficult to find a proper place to stay, especially during high season. We were really lucky, because Elea apartment was just perfect for us! So we booked, we packaged a few cloths and we were ready to go… and then I realized that I have forgoten my camera! These pictures are mostly from my mobile and a few of them borrowed from the host of the apartment.
The apartment was big enough for a family and with seperated rooms, since it has a big bedroom with a double bed and two seperated sofa-beds in the living room. The living room was also really beautiful and the seperated kitchen was just perfect to use and with a baby sit for the dinner, if you were planning to stay longer. Ok, as you may understand for these two days, cooking was not in my plans, except breakfast!
The apartment had also a beautiful balcony with a panoramic view of Chersonissos and I loved having my afternoon coffee reading a great book! What I also loved in this place? It was pure in traditional Cretian decoration with white and beige shades, which actually were really relaxing!
Of course the kids were not staying all the time inside the house, but there were playing in the garden of the apartment, full of olive trees (that's why the apartment is called Elea, meaning olive tree in Greek)! The night it was just amazing to stay outside in the garden and have your dinner in the big table or something cold to drink, while the kids were playing next to you among the trees!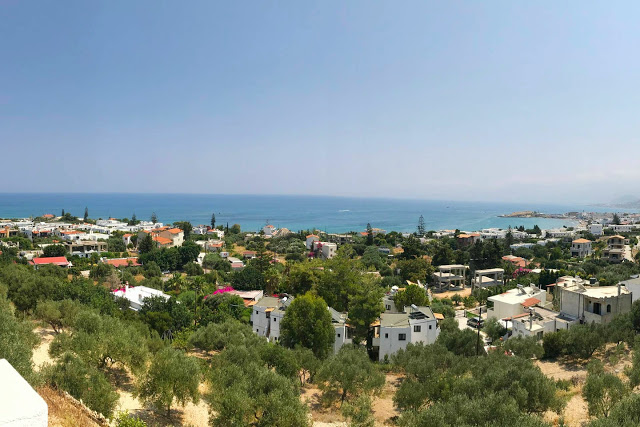 The host of the apartment, MRs Eftichia, is a really polite lady, who is always willing to help you with everything and of course to propose what to see and visit. Actually I had the feeling that I had my mother with us… In general, the apartment was really clean and with beautiful decoration and it was family friendly, since the kids could always run around and play without any problem and the space was big enough covering all of our needs. A beautiful place to stay!
If you even been in Chersonissos in Crete, just check Elea! You will love it!
Where to book:
– Elea in Booking
– Elea in Airbnb