Do it yourself! How to make a Tablecloth from a Placemate and change your dinner decoration. An easy craft that will add more color in your decor
I always remember both my mom and my grandmom to use Tablecloths (and especially handmades) on our tables. And I always remmeber myself wondering, why to use tablecloths? Especially if you do not use them on the dinner and everytime you had to remove them carefully from the table in order to put there the plates with the food. Too much unecessery "exersice" which i couldn't understand! That's why I do not have tablecloths on my home! Now imagine what my mother says everytime she visits my home… no comment! This time I tried to change my mind, so in order to take it easy and not use from the beginning the handmade lace tablecloths, I used a more casual let's say, for the small table we have in our living room! Something with color of course and with pom pom!!! So… a Fabric Placemate just become a beautiful Mini Tablecloth!!!
Materials to use for the Embroidery Pom Pom Tablecloth: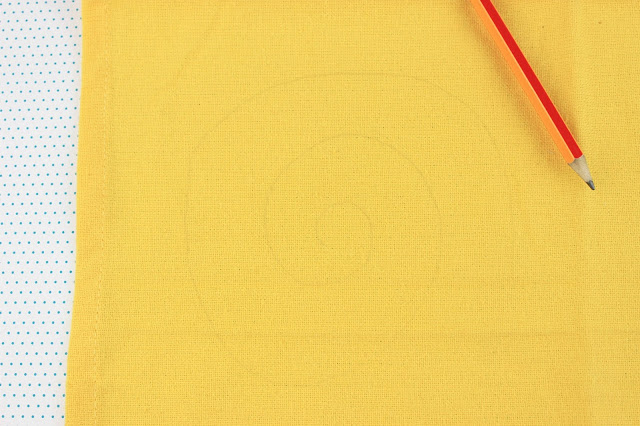 It is really amazing what a mind can think if you are relaxed! Oh yes… the specific day that I found this beautiful yellow placemate in Tiger Stores, I was having great time walking in the center of Athens, having a delicious coffee and of course I was free from work! So, when I saw this piece of fabric, it was the first time I really liked something yellow and I decided to get it! And then the idea just pop up… not to use it as a tablemate but I want it to add pom pom and small details! Tablecloth…why not?
You do not need to be expert in embroidery, since this is a really simple project! It was my way to learn embroidery back stitch to my princess. Just draw something simple on the fabric with your pencil. I have designed two cochleas and to be honest there were differences between them! But I didn't care, because it actually turned out something beautiful! Then start embroidery your schema and use whatever thread you like! Pink , green, purple, yellow and turquoise were my choices!
Fabric glue and the pom pom ribbon is part of this cute tablecloth! Of course if your are having a sewing machine, then it will more stable to sew the ribbon. The tablecloth is ready!
My placemate is part of my coffee table in the living room and I really like it! So I have decided to create two more for our bedroom!
So, have you ever upcycle any placemate????