Mercure Hotel in Bratislava ! A beautiful, artistic and modern hotel to stay while you are visiting Bratislava city.
The past two years due to business trips, I had the chance to travel a lot around central Europe and this was amazing! Every trip was a small one, meaning a couple of days and for business, but again it was just the perfect chance to be alone in a city that I have never met and of course to taste their local food and to walk around and discover cute shops! To be honest at the beggining I was terrified to travel alone, but then I realized that this is a challenge that I like! Two days were enough to work and to have fun and to discover the city! What is the other thing I like also? Τo discover new hotels! In my last trip in Bratislava in Slovakia, I had the chance to stay at Mercure Hotel!
December in Bratislava and the weather was so cold! Lucky or not, this time my business trip last two days and since we had so many things to do, I enjoyed my hotel and my beautiful room…yes, we were working in the meeting rooms of the hotel!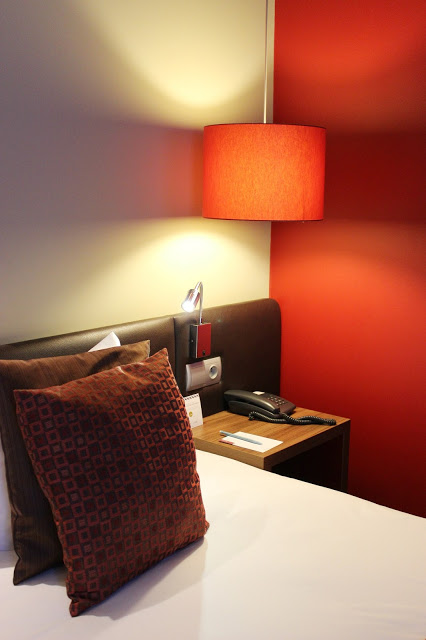 My room was simply adorable and totally my style! Minimal, with bold colors and  beautiful details in retro style, with the most amazing bath I have ever seen and a very comfortable bed! Orange, black and brown with red inputs were the main colors color in the decoration. The lighting was one of the best I had in a hotel because I really liked these minimal lamps! And the bath??? I have never seen something similar so far, since it was pure with glass, meaning you have a view of the bath from the room and vise versa.
The room had also a desk very suitable, free wifi and a mini bar with delicious bites and drinks.
For coffee lovers like me, there was also a coffee machine and many coffee tastes to choose.  It was great to have a coffee before going for breakfast or for work, while the night I always enjoying a cup of tea. There were so amazing tea flavours available!
Of course do not forget to mention that there were also soft bathrobes and slippers!
Mercure Hotel in Bratislava is a well designed and really well-decorated hotel, in a modern style, with beautiful colors and some retro details, just like the rooms. The restaurant and the loung bar were both so beautiful with delicious local and not only tastes. Actually, this  was my first time having Broccoli soup and I loved it!
Breakfast, lunch and dinner were served in a beautiful,  elegant and modern dining environment. In the restaurant you can taste dishes from the traditional Slovak cuisine combined with the latest tastes from different corners of the world. I had the chance to enjoy breakfast and meals in the hotel and all of them were really delicious. There were also tastes for vegeterian. Fruits and salads were fresh, while there was always both meat and fish available.
The hotel is located in the city centre within 10 minutes walk from the Bratislava castle and the downtown pedestrian shopping area. So next time, have a great breakfast, wear your comfortable shoes and start walking around…. Bratislava has so many beautiful places to visit and so many amazing shops to discover!