Polka Dot Coffee Cup DIY. How to craft a polka dot cup, perfect gift idea for your tea or coffee lovers friends!
My first diy for the new year and polka dots are thegreatest way to start blogging again! You know my passion for dots, so this time there are dots on our tea or coffee cups, full of color to add sparkles on our everyday life! Actually these were the gifts we have prepared with kids for our godfather and godmother for Christmas! A beautiful painted cup with treats!
Materials for our Polka Dot Painted Coffee Cups:
– Ceramic Cup (I got mine from here)
– Hole reinforcement labels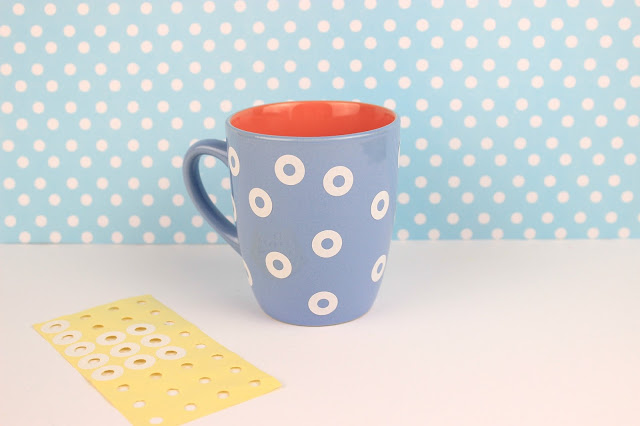 This craft is actually something that kids can help you with, since it ia really an easy one! Start by putting the hole reinforcement labels to the cup and then decide what color your dots will be.
Start painting them with the same color or with multiple shades. In our cup we used pink, blue, yellos and bright green. Allow the paint to dry fo a while and remove the labels carefully.
The cup is ready and full with polka dots. Put it in the oven in middle temperature and "cook" it for about 3 minutes. Remove it carefully and allow it to cold. Now we are finelly ready!
So after we created a few of these adorable coffee cups, we start filling them with our treats! Two different type of treats actually, but unfortunatelly I have photoshooted only the one of them! Both of them were decorated with paper drinking straws and with wooden spoons! In the first category of treats we had Cinnamon tiny cookies in a candy bag and in the other one we had Hot Chocolate Mixture, like the one I had in my Christmas mason Jar Treats! Ribbons for the candy bag and the gift is ready!
Our godparents were thrilled about the gift and also about the treats… Hot chocolate and cookies at the same time! Actually this is a beautiful idea also for the birthday treats I want to prepapre for my prince birthday party…let's see…what kind of treats shall I put inside???