DIY Upcycle Mandala Serving Dish  from an old serving dish!
There are these moments that you open your capboards in your kitchen and you see it! No, I am not talking about the mess, because we are excellent on storing things, but I am talking about the old things that you have kept and you do not use them. Like the old serving dish I had in blue and white. Maybe you liked it in the past, but now you consider it not your taste and you keep hiding it in the capboard. So, it is time to decide… through it away or upcycle it? For me the decision was obvious…the second choice please! It is diy time! DIY Upcycle Mandala Serving Dish!!!!
Please do not ask me why I have bought this disk. Really I cannot answer. maybe because I wanted to change it from the very first time I saw it or maybe I wanted it for my balcony Summer decoration. Who knows! Anyway, now is the time to make it more according to my taste!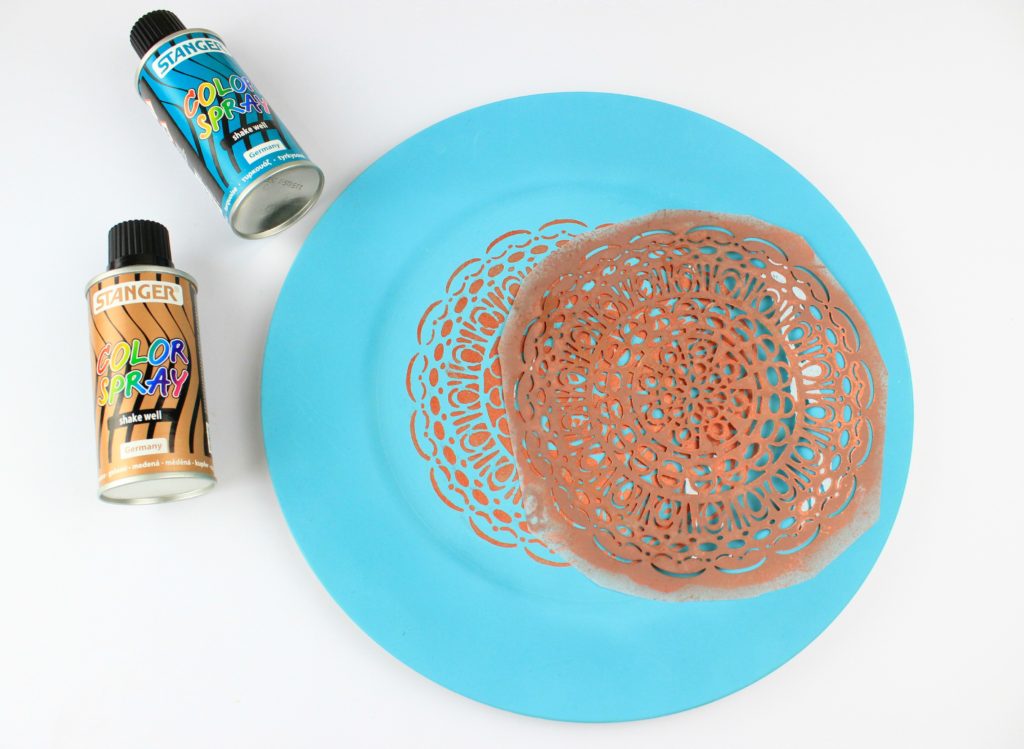 Materials for DIY Upcycle Mandala Serving Dish :
– old serving dish
– spray paint
– mandala stencil
– tabon paint brush 
– acrylic paint
– 3d contour paint
– Sand Fixative Spray
And let's start!  I do not remember if I have admit it in the past, but I always was afraid of the spary paints. I could not use them correclty and so far I have destroyed many things. But now, it is one of the most favorite materials to use! I found this amazing dark turquoise blue paint and of course I use it on my old dish. It was beautiful even as monochrome, but I wanted to make it set with my Ombre Glass Candle Holders , so cooper paint also please!
I like also the ethnic style, so mandala is just perfect for my dish, so i got also a mandala stencil.  Put your stencil on your dish and apply carefully the acrylic paint with the tabon paint brush. Just be carefull because the specific stencil has small wholes! Remove the stencil carefully and allow it to dry.
And now the funny part. To be honest this was not my original idea about my upcycle serving dish, but I got these amazing 3d contour paints and I wanted to use them. Just choose your pattern and apply the paint on the mandala schema. I have used the same color with the schema, cooper for both of them, for one reason: it was my first time with contour paints and I knew it from the beginning that I would make mistekes. So if the color was exactly the same, mistakes are hidden and the only thing you see, is sparkles on the main schema. Allow it to dry and apply also the Sand Fixative Spray, to protect it from water. The serving dish is ready!!!!
The serving dish is ready and it is already next to my ombre glass candle holders! Now I really like it a lot! Actually, isn't it an amazing challenge not to through away something old but try to figure out how to upcycle it? 
Really, have you done something familiar? What and how was the original product and how you used it and upcycle it?
Happy Crafting!!!
mats mouts