Handmade Love : Minds Spin Fabrica!!! Meet Katerina from MindSpinFabrica, a sweet girl with an amazing smile and her colorfull handmade creations!!!
You already know how much I love everything handame. Also you know my passion about polka dots! I also love bags…so guess how thrilled I am because I discovered an amazing Polka Dot Tote Bag, totally handmade! Love from first sight! My bag came as an amazing pachage, made with love from the sweet Katerina!
I was lucky to met Katerina a few years ago, both participating in a online game for crafters. And then we joined more related games (exchange of craft materials and many more). Since then I follow her account in order not to loose any of her creations and of course her recipes and walks in beautiful Thessaloniki. Latest she got passioned with tote bags, full of colors and beautiful patterns like stripes, polka dots, candies and many more.  Just check out her collection and I am pretty sure you will love it too! So, allow me to introduce you Katerina from  MindSprinFabrica!!!!
**********************
I am Katerina Kissa, the person behind Mind Spin Fabrica. I grew up, studied archaeology and live in Thessalonki in Northern Greece with my husband. After my post graduate studies in Cultural Informatics in Mytilene, Lesbos I worked as an archaeologist (contract stuff) in ephorates of antiquities and in excavations in big construction projects( METRO-TAP) held by the  Ministry of Culture in Thessaloniki, Athens, Kastoria and Kozani. Somewhere  in between my working contract and months of unemployment I got the "bug" of  the handmade and crafts.
Inspired by the finds of ancient artifacts in excavations I started working my own handmade objects, I started crafting occasionally and as a hobby at the beginning and more systematically moved by internal impulse. The last 10 years Ι experiment with different materials and techniques as faux jewels with resin and alpacas, crafts with fabric, paper, up cycled materials, collage, crocheting and sewing.
I also started attending creative seminars at Koumpi coffee and crafts, sewing lessons at Istos and started reading craft blogs. In Koumpi seminars I met the multitalented Anna of  In my closet and the story goes on.
And then I created mindspinfabrica , my blog, an online space so as to share with the rest of the world my crafting adventures, recipes, images and memories from trips, simple tutorials for crafts  and everything that inspires me. So Fabrica is my workshop, my house, my desk, my kitchen table where I cut-sew-glue-cook-write. Mind spin are all the thoughts that transform to creations.
I get inspiration from everything. From visiting a museum, from a simple text, a brush stroke in a painting, from a beautiful place in my city, a building, from  flavors and scents or memories. I believe that inspiration is everywhere in all things- no matter big or small- and you can extract all the small pieces-little pixels- that get stuck in your eye and transform them into something else. They can take new life and another use. I love colours and simplicity in forms of objects.
I love the handmade because it is a way of expression and creativity, an indication of love and also a means of distressing in difficult periods. I feel pretty lucky because through blogging and crafting I met lots of creative people, I made new friends, I learned to deal with difficult situations and also  l to approach the problems of life with a different perspective.
From the beginning of 2018  I started focusing on sewing and creating bags from oilcloth. I participated in a local Easter bazaar in the  Thessaloniki International Fair and in  a local flea market. In the immediate future I plan to open an ETSY shop.
I also dream of my own workshop so as Paris- my hubby- not to step on my oilcloth scraps and pins in the kitchen!!!!!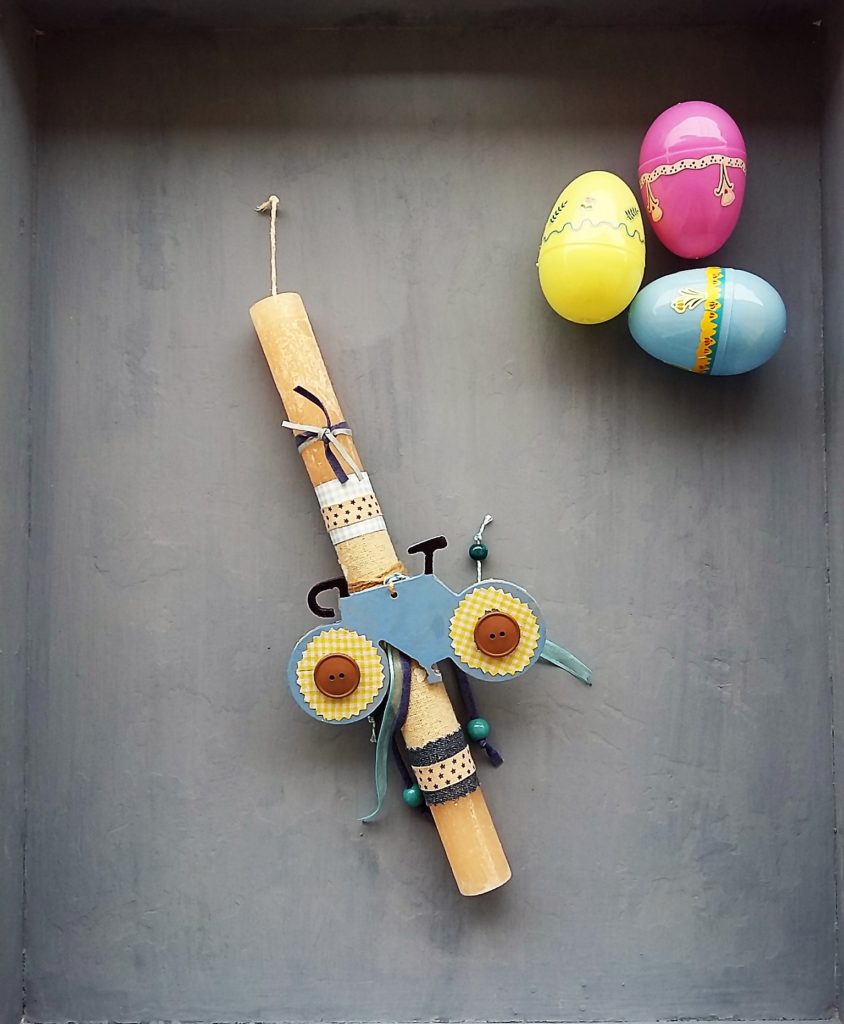 I love Katerina's style! Her creations are made with love and full of colors in beloved patterns, which actually I consider them very optimistic! Nothing is only black or white! You only need to smile and have positive thoughts and your mood will get better. 
And because I already enjoy my Turquoise Polka Dot Tote Bag, I want to share with you my opinion. The bag is well-crafted and very comfortable! I use it not only as a shopping bag, but also as my usual bag, since it fits many things. It has a really big space! 
You can admire Katerina's creations online in:
blog: MindSpinFabrica
Facebook: MindSpinFabrica
Instagram: MindSpinFabrica
Pinterest: MindSpinFabrica
My dear Katerina, it was such a pleasure having you in my blog-house! Thank you very much for this honer!
mats mouts