How to make your tote bag more trendy? How to make it more girly? With Colors only! DIY Painted Rainbow Tote Bag, an easy craft for kids also!
It is trendy, it is good for the environment, is a challenge for me also… use fabric bags instead of plastic bags! And where the challenge is? Simple… how can I have a minimal monochrome bag with me? Really, this is not the case! So let's paint it and decorate it and make it more girly, perfect for this Summer too! DIY Painted Rainbow Tote Bag, an easy craft for kids also!
Materials for the Painted Summer Tote Bag:
Tote Bag
Fabric
Pencil
paint brush
Scissor for fabric
Glue for Fabric
Cooking Paper
The truth is that lately I am in love with the fabric tote bags! But also I cannot afford to have really minimal accessories with me, especially my bags! So, when I got this monochrome beige fabric bag, it was a bell ringing all the time and did not allow me to relax at all…. I had to do something! I had to add more color on the bag of course! Check out for example what I have done to my tote bag with bows and to the tote bag with sequins and of course my geometric bag! You got it now ! I want to have colors on my accessories and this is a fact! The second fact is that I do not have any idea about painting and my draws are not good at all. How to solve this? With a really easy to make pattern… Rainbow!
Firstly use the cooking paper into the bag. This will protect you the other side of the bag with the colors from the front one. Secondly get a pencil and start drawing simple parallel curved lines. Do not worry if the lines do not have the same width. Actually this will make the bag even cuter!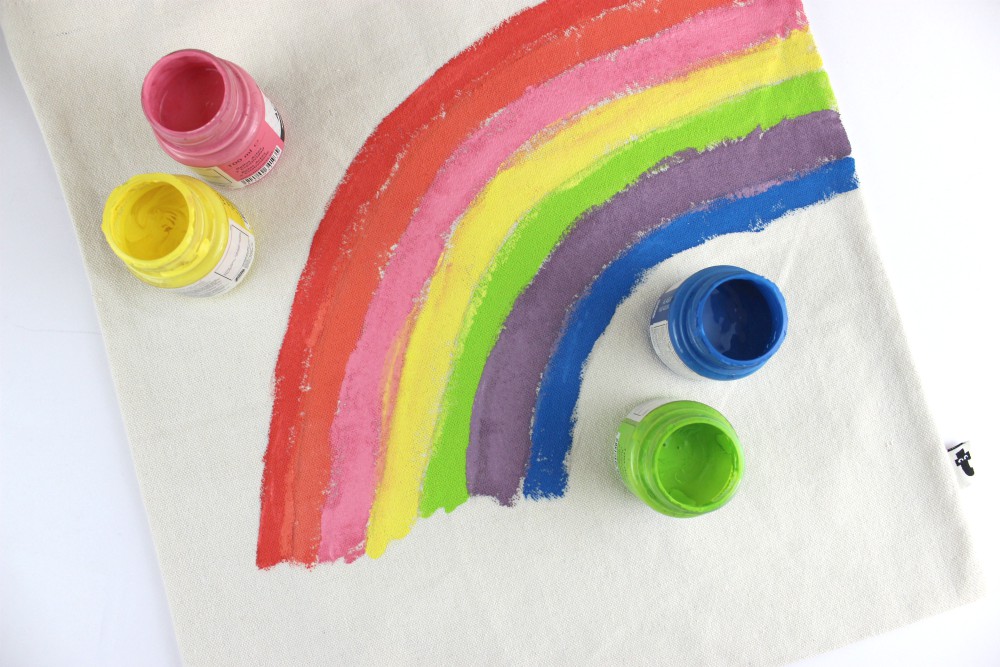 And now the funny part. Start adding colors in your bag! Again, add whatever shade you like, even not the typical rainbow's colors! Let it dry. I think the bag is better now, but can make it even better with a small cloud of course!
Oh yes, I love clouds! They can travel around the world, they can change whatever they want, they can be on the sky! And actually, this is another pattern that I can draw easily! So draw a cloud on a paper and cut it and use it to cut the fabric too.
You can use a monochrome fabric or with a pattern one, like mine. The cloud is ready to decorate our bag.
There are two ways to apply the cloud on the fabric. The first one is the normal one actually. Just sew it! It will be really stable. The second one is the one for people like me, with limited time and of course boring of sewing! Just use glue for fabrics! it will take less than 5min but you need to wait longer to dry. The bag is ready!
I think that the bag is better now. Full of colors and of course a small cute cloud, perfect for Summer shopping! My princess decided that this will be the perfect gift for her teacher, so she prepared the second one by herself. The bag included also a book and a sun protection cream and the gift was ready.
So, what do you think? Isn't this really easy??? And the bag has colors!!!
Happy Crafting my friends and enjoy Summer!
mats mouts,
Zina