How to make No Sew Rope Serving Dish! No need to be expert craft for this diy. A low budget craft that takes only 30min and just your imagination! Join me to create a beautiful serving dish with rope and colors!
Materials for making low budget Serving Dish with Rope:
This Summer my mood for changing the decoration of my home is not that high. I made a couple of Candle Holders with Sea pattern and I kept my Painted Driftwood, but nothing else. The shells are remaining hide in the boxes and I do not want to take them out. Of course there are exceptions, like my jewelry anf the Driftwood Necklace I did! Anyhow, I always wanted to try to make something with rope and this was the time. I really like the color of the rope and that you can use it in various different ways. However, this time I wanted a craft that can be used all year and not only during Summer. A serving dish to keep also my candles, was just perfect.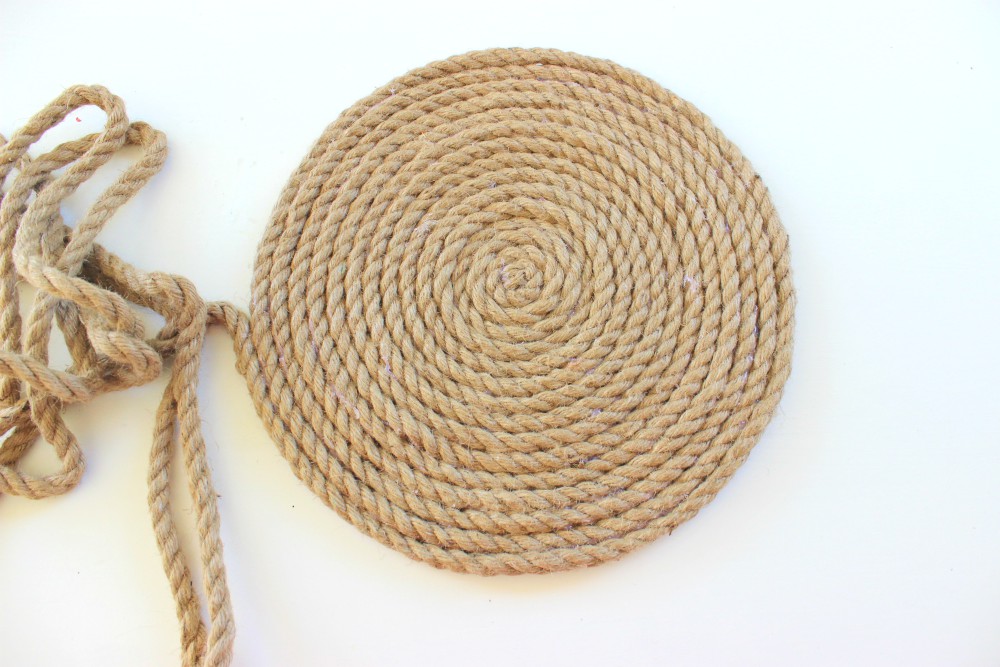 Let's start then! You will need the rope and hot glue! Just keep in mind that we will need a big quantity of glue. Cut with the scissor the first edge of the rope and trim off any unraveled end. Put hot glue on the edge and wait a few seconds to dry. Then curl the end around itself in a tight spiral. Continue adding lines of glue around the flat rope circle, firmly pressing the rope in as you go.
If you wish to make a simple dish to use it for the decoration or for coaster, do not change anything in the procedure. But if you want to make it looks like a serving dish, we need to make a couple of handles. It is really easy. In the point that you want to have the handle, just do not use hot glue at all. Leave space to the rope and then start adding glue again on the second edge of the handle. That's it. The dish is ready!
Now two ways to use it. The first one is to keep it as it is and decorate it with candles and flowers and what ever you like. But if you want to actually serve coffee and plates, you need to have a stable base for that. Just glue the dish on wood of the same size. Else you can use multiple interfaces of cork. In my case, the dish created for decoration purposes only, so nothing else to do.
The funny part now. I have no idea how to draw or paint! The easiest way for me to make my dish colorful is of course to make circles with different width!
Chalk paint and acrylic paints and the dish is ready! Yes, you guess right, I am in love with pink and green in every shade… at least for now! Let the colors dry. Dish is ready!
Since we are using a rope, the colors are not going to be that bold as expected. I wanted my craft to have actually a painted rope and not to cover it with color. But if you want to have more bold color, just repeat adding painting a few more times.
My dish is already part of my decoration. I use it as candle holder to be honest, with a few driftwood also. Who knows what it will have when the Autumn will be here… maybe my beloved leaves and pumpkins!
So, have you ever tried to make anything with rope? It is really easy to use it, just find a rope that is soft to use it and curl it easily!
Happy Crafting!
Zina