It's being long since I had a Newbies post, not because I haven't received any gifts, but because every time I was expecting something new and I wanted to have it in the same post! In that way, I delayed this post for a couple of months and now I have 5 amazing gifts to share with you!
Πέρασε καιρός από την τελευταια αναρτηση που ειχα με τα νεα αποκτήματα, αλλά σε αυτο φταιει το γεγονός ότι καθε φορά ερίμενα νεα πακετάκια και ήθελα να τα εχω όλα μαζι σε μία ανάρτηση, οπότε έτσι καθυστερησα σχεδον δυο μήνες. Αλλά τώρα έχω πέντε δωράκια να μοιραστώ μαζι σας!
As you already know, in the end of may we had baptised my prince and I have received a couple of amazing handmade gifts! 
Ariadne
was really kind to create a beautiful frame for the nursery room with the character of Aris from his baptism. And she also send me a gorgeous sea pebble decorated with felt and sea glasses and beads….it is really something unique and truly amazing! It is already joined my decorated pebbles collection! Thank you Ariadne!!!!!
Όπως ήδη γνωρίζετε τέλη Μαίου βαπτίσαμε τον πρίγκιπα και δεχτηκα μερικά καταπληκτικά χειροποίητα δωρακια! Η Αριαδνη ήταν υπέροχη και μας ετοίμασε μία κορνίαζε για το παιδικό δωμάτιο με κεντημένο τον χαρακτήρα του Άρη από τη βάπτιση. Επίσης μου χάρισε ένα βότσαλο που είχε διακοσμήσει με τσόχα και γυαλακια θαλάσσης και χαντρες… κάτι απίστευτα μοναδικό και υπέροχο! Ήδη το έχω προσθέσει στη συλλογή με τα διακοσμημένα μου βοτσαλάκια! Σε ευχαριστω πολύ Αριάδνη!!!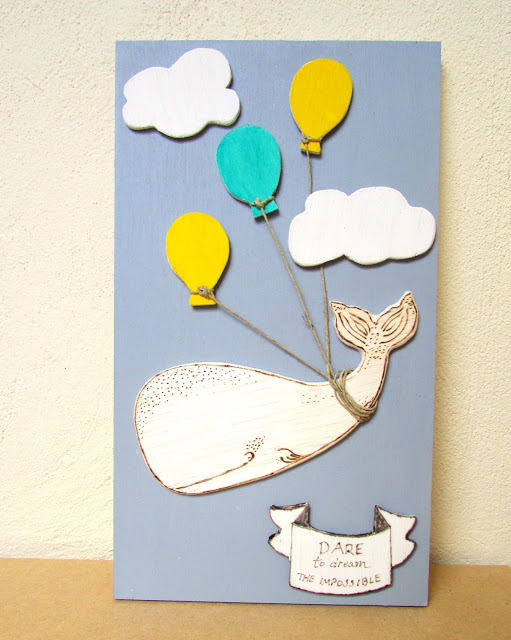 But this was not the only amazing gift I accepted…
Dimitra
was again created something unique and we are the proud owners (actually my son is) of the Flying Whale!!!! I love it!!!! It is already in the wall next to the handmade fabric garland Akamatra did for Aris…. oh yes…I will show this garland in another post! Thank you Dimitra!!!!
Αλλά αυτό δεν ήταν το μόνο καταπληκτικό δώρο που δεχτηκαμε… η Δημητρα για άλλη μία φορά μεγαλούργησε και δημιουργησε κάτι μοναδικο του οποίου πλέον είμαστε περηφανοι κάτοχοι (βασικα ο υιος μου δηλαδη) την Ιπτάμενη Φάλαινα!!! Το λατρευω! Στολίζει ήδη τον τοίχο του παιδικού δωματίου δίπλα στην υφασμάτινη γιρλάντα που μας έφτιαξε η Ακαμάτρα, την οποία θα σας δείξω σε επόμενη αναρτηση! Δημητρα μου χιλια ευχαριστουμε για όλα!!!
What I liked in the baptism? That there were beloved friends with us…even those that do not live in Athens. That's why I was thrilled when both Dimitra and Vasso joined us. Vasso travelled from her island a few days before the baptism in order to help me with the last details… well actually not details, but the bags with the sweets for the guests. Both Vasso and her princess were an amazing company for us and I have to say that we laughed so much, we had beautiful moments and she managed to remove my last minute stress. She also made for me this amazing wooden jewelry box with decoupage and the theme of course was… what else…buttons! Inside the box were a few more surprises: handmade soaps from
Despoina
, cute buttons and a strawberry body butter from Body Shop! Thank you
Vasso
!!!
Τι λάτρεψα στη βάπτιση; Ότι είχαμε την χαρα να έχουμε διπλα μας αγαπημένους φίλους… ακόμα και αν αυτοί ζουν εκτός Αθηνων. Γι αυτό και χάρηκα απίστευτα όταν η Δημητρα και η Βάσω ήρθαν. Η Βάσω μάλιστα ταξίδεψε από το νησι της μερικές μέρες πριν για να με βοηθήσει με τις τελευταιες λεπτομερειες…καλα οχι λεπτομέρειες, αλλά τις τσάντες με τα γλυκά για τους καλεσμένους. Η Βάσω και η πρισγκιπισσα της ήταν μια απίστευτη παρέα και πρέπει να ομολογήσω ότι γελάσαμε πολύ, περάσαμε φοβερες στιγμές και καταφερε να με βοηθησει να διωξω το αγχος. Δημιουργησε επίσης αυτό το υπέροχο ξύλινο κουτι για τα κοσμηματα μου με την τεχνικη decoypage με θέμα φυσικα …τι άλλο…κουμπια! Μέσα στο κουτι είχε και άλλες μικρες εκπλήξεις: χειροποιητα σαπούνια από τη Δεσποινα, γλυκουλια κουμπάκια και ένα body butter από το Body Shop! Σε ευχαριστω πολύ Βασω μου!!!
Last but not least I have accepted personalized jewelry gifts from two more beloved friends. Akamatra created for me this amazing Long Dainty gold necklace with a gorgeous charm with a crystal inside it. Really dainty, chic and I enjoy it a lot wearing with more necklaces!!!! I love it!!! Thank you Maro!!!!
Τελευταια αλλά επίσης εκπληκτικά, δεχτηκα δωρακια καθαρα για εμενα από δύο αγαπημένες φίλες. Το Ακαματρινι μου έφτιαξε ένα υπέροχο σικάτο μακρυ κολιε με χρυση αλυσιδα και ενα ασυνηθιστο κρεμαστο με εναν κρυσταλο μεσα! Υπέροχα σικάτο και το φοράω και το χαίρομαι μαζι με άλλα κολιε!!!! Το λατρεύω!!! Σε ευχαριστω Μάρω!!!
And
Gia
of course…oh how much I love her creations! Flowers for a woman…what is best? Dangle earrings and a flower belt which can be used as a bracelet too in a gorgeous coral shade and a beautiful gold honey floral hair pin for my princess! Really, aren't they great especially for this season??? Thank you Gia!!!
Και από την Τζια φυσικά…καλα λατρευω τις δημιουργίες της! Λουλούδια για κάθε συναίκα..τι καλύτερο; Κρεμαστα σκουλαρίκια και μία λουλουδάτη ζωνη που μπορει να φορεθει και ως βραχιολι σε ενα φοβερο κοραλί χρώμα και ένα χρυσο μελί τσιμπιδάκι μαλλιων με λουλούδια για την πριγκιπισσα μου! Ειλικρινά, δεν είναι καταπληκτικα ειδικά γι αυτή την εποχη;;;; Σε ευχαριστω πολύ Τζια μου!
I am really lucky to have such precious friends and I am also lucky to accept and enjoy handmade gifts! I do not know about you, but I consider handmade gift precious because they have been created with love and imagination and the person behind it spent time to create something just for you. Actually this is an honor! Thank you my ladies!!!!
Είμαι πάρα πολλή τυχερη που έχω τέτοιους πολύτιμους φίλους και πραγματικά είναι απίστευτο συναίσθημα να λαμβάνεις δωρακια με χειροποιητες δημιουργίες τους. Γιατί για μένα το χειροποιητο σημαίνει κάτι που είναι φτιαγμένο μα αγάπη και μεράκι και φαντασια και ο ανθρωπος πίσω από αυτο αφιέρωσε χρόνο για να δημιουργήσει κάτι μοναδικο για σενα. Βασικά αυτό ειναι τιμή! Σας ευχαριστω πολύ κυρίες μου!!!!