I love coats for the cold Winter and I like many different styles. After all a woman needs options even when it comes to outerwear selections.  As each season passes we have to prepare for the unexpected weather conditions ahead, so why not do so while looking fabulous. Blue, purple, grey, black and white, plaids, capes, boyfriend style, with one button or double breasted, coat is a cloth that can easily change your outfit from casual to elegant, to add more color or to just make it unique!
Αγαπώ τα παλτό για τον κρυο Χειμώνα και λατρευω τα διαφορετικα τους στυλ. Ετσι και αλλιως μια γυναικα χρειαζεται επιλογες ακομα και αν εχει να κανει με το παλτο της. Μια και το Φθινοπωρο τελειωνει, καλο ειναι να ειμαστε προετοιμασμενες για την αλλαγη του καιρου, ενω παράλληλα μπορουμε να δειχνουμε και υπεροχες! Μπλε, μωβ, γκρι, ασπρομαυρο, καρω, καπες, boyfriend στυλ, με ενα μεγαλο κουμπι ή σταυροκουμπωτο, το παλτό είναι ένα ρουχο που ευκολα μπορει νε μετατρεψει την εμφανιση σου απο καθημερινη σε πιο εκλεπτισμενη ή να προσθεσει χρωμα ή απλα να την κανει μοναδικη!
Dramatically oversized silhouettes are really huge this season. This kind of coat can again be really sexy if you pair it with slim trousers or a pencil skirt.
Τα υπερβολικά μεγάλου μεγέθους παλτο είναι όντως πολυ μεγάλα φετος. Αυτο το στυλ παλτου μπορειτε ευκολα να το συνδυασετε με στενα παντελονια ή στενες φουστες τύπου 50s και να δειχνετε sexy και παλι.
Military-inspired styles is one of the most trendy looks to wear this winter. A double row of polished buttons marching up the stand collar shows that this topper is far from standard issue.
Τα στρατιωτικα στυλ παλτο ειναι πολυ της μοδας φετος το χειμωνα. Μια διπλη σειρα καλογυαλισμενα κουμπια που να καταληγουν σε ορθιο γιακα ειναι ενα στυλ τελειως διαφορετικο απο οτι ειχαμε συνηθισει ως τωρα.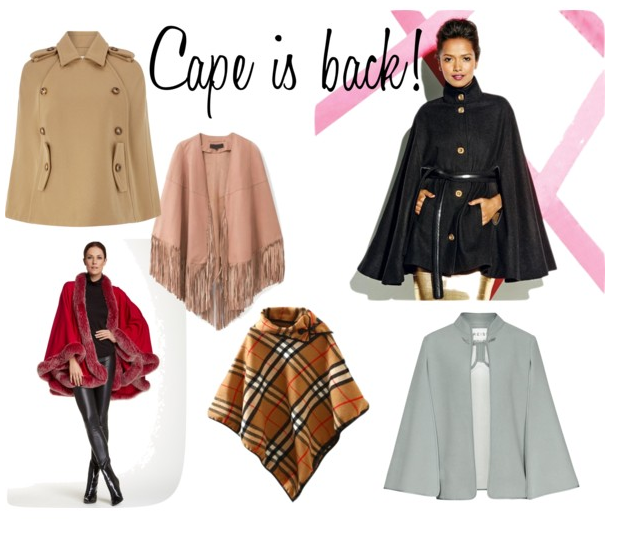 Capes are easily the most popualr style for the Fall 2014 / 2015 Winter season. Capes present a style that is chic and  sophisticated but also can add a touch of ethinc detail in your outfit. Not to mention that the roomy silhouette can be camouflaged and also flatters every body type.
Οι καπες είναι ισως το πιο δημοφιλες στυλ για τη φετινη σεζον. Οι καπες εχουν προσδιδουν ευκολα ενα στυλ πιο κομψο και σοφιστικε αλλα και μπορει καλλιστα να προσθεσει μια πιο εθνικ νοτα στο ντυσιμο μας. Να μην ξεχναμε βεβαια οτι ειναι το τελειο καμουφλαζ για τις πιο γεματες σιλουετες και οτι μπορουν να φορεθουν απο καθε τυπο σωματος.
 Comfort and cuteness in boyfriend style, sporty jackets are must have this season. In classic style or a more feminine one, combine it with your casual denim pants and sneakers and you will make it even more unique.
Ανετα και γλυκουλια σε αγοριστικο στυλακι, τα αθλητικα μπουφαν ειναι ενα ρουχο που δεν πρεπει να λειπει απο την ντουλαπα μας. Σε κλασσικο στυλ ή με πιο εντονα γυναικεια χαρακτηριστικα, συνδυαστε το με το καθημερινο σας τζην και τα αθλητικα σας παπουτσια και θα κανετε την εμφανιση σας μοναδικη.
Plaid is one all time classic trend that is again back in fashion this Winter. Huge or small, in black and white or colored, asymmetrical or not, plaid coat is a must have piece. Combine it with monochrome outfits and you will have as much color as it needed to make it chic and beautiful!
Τα καρω ειναι πάντα κλασσικο και φετος επιστρεφει στη μοδα. Μεγαλα ή μικρα, σε ασρπομαυρα ή χρωματιστα, ασσυμετρα ή όχι τα καρω παλτο ειναι κατι που δεν πρεπει να λειπει απο την συλλογη μας. Συνδυαστε το με μονοχρωμες εμφανισεις και προσθεστε όσο χρωμα ακριβως χρειαζεται για να δειχνετε ακομα πιο ομορφη!
so…what kind of coat style do you prefer?
λοιπόν…εσεις τι στυλ παλτο προτειματε;
    mats mouts
PS… many of the coats above are from OASAP and if you wish to have a gift for yourself, this is the time. Take advantage of this season offer and use the thanksigiving discount! Hurry up!