Bohemian style is in fashion this period and one of the most trendy accessories are dangle earrings! If the earrings have colored beads and chains, are even better! So let's create a jewel that you will definitely love in yellow, white and gold tones!
Το στυλ boho είναι πολύ της μόδας αυτη την περίοδο και ένα από τα πιο μοδατα αξεσουαρ ειναι τα μακρυα σκουλαρικια! Αν τα σκουλαρικια εχουν και χρωματιστες χαντρες και αλυσιδα, ακομα καλυτερα! Γι αυτό ελάτε να δημιουργήσουμε μόνες μας ένα κόσμημα που σιγουρα θα λατρεψετε σε κιτρινη, λευκή και χρυση απόχρωση!
What we will need:
Gemstone Beads ( I have used a Yellow Jade 8mm and two tiny white Jade beads 4mm)
Eyepins
Gold Chain
Earring Hooks
Plier Set
Τι θα χρειαστούμε:
Χαντρες ( στο συγκεκριμενο κοσμημα χρησιμοποιησα Νεφριτη κίτρινο (8mm) και δύο μικρές λευκες χάντρες Νεφριτη 4mm)
Γράνες
Χρυση Αλυσιδα
Άκρες για κρεμαστα σκουλαρικια
Μυτοτσιμπιδο και κοφτακι
This is a really fast and easy tutorial, so please do not worry if you have never created a jewel before.  First let's create the gemstone part of the earrings. We will use the Jade beads and the eyepins. Just pass the white bead in the eyepin first, then the yellow one and then the last white bead. Use the round nose plier to loop the end of the eyepin.
Η διαδικασια ειναι πολλή γρηγορη και απλή, οπότε αν δεν εχετε κανει ποτέ μεχρι τωρα κοσμηματα, μην αγχωνεστε. Αρχικά θα συνθεσουμε το κομματι με τις πετρες. Θα χρησιμοποιησουμε τις χαντρες Νεφριτη και τις γρανες. Απλά περάστε τη γρανα από ενα λευκο νεφριτη, μετα τον κιτρινο και τελος πάλι τον λευκο. Χρησιμοποιηστε το μυτοτσιμπιδο με τη στρογγυλη μυτη για να κανετε μια θηλια στην ακρη της γρανας.
Continue by preparing the chain scraps. Actually this jewel is just perfect in case you have small chain scraps that you cannot use them in your creations. Else just use a chain piece and cut it in small pieces. I have used 8 chain scraps. It is not necessary to have identical length between them. If they are different they will create a small chain tassel.
Συνεχιζουμε με τα κομματια της αλυσιδας. Βασικα αυτό το κόσμημα ειναι μια καλή ευκαιρια να χρησιμοποιήσουμε μικρα κομματακια αλυσιδας που μας ηταν άχρηστα. Διαφορετικά απλά πάρτε ενα κομμάτι αλυσιδας και κόψτε το σε μικροτερα μερη. Στα σκουλαρικια χρησιμοποίησα 8 μικροτερα κομματια. Δεν είναι απαραίτητο να είναι όλα ισα μεταξύ τους. Εαν ειναι διαφορετικού μήκους, απλά θα δημιουργήσετε μία μικρη αλυσιδενια φουντα.
 Pass the chain scraps at the loop end of the eyepin and close it.
Περαστε τα κομματια της αλυσιδας στο ενα ακρο της γρανας και κλειστε το.
Last part, connect the Earring Hook with the second end of the eyepin. Done! The earrings are ready! Wasn't that an easy jewel to make? And full of color!
Τέλος συνδεστε το σκουλαρικι με το ελευθερο άκρο της γρανας. Τελειωσαμε! Τα σκουλαρίκια είναι έτοιμα! Δεν είναι κάτι εύκολο να κάνετε; Και γεμάτο με χρωμα!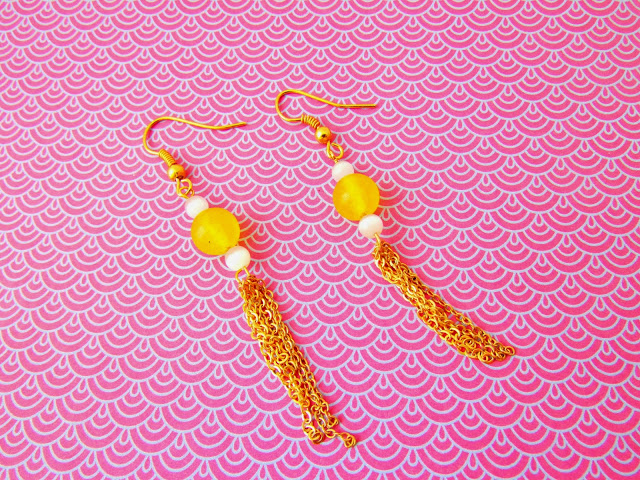 I have decided to make a gift to a lucky lady…these earrings! So in case you wish to win them, just use the rafflecopter below to get more entries!
Αποφάσισα λοιπόν να κάνω ένα δωρακι σε μια τυχερη… τα σκουλαρικια αυτα! Αν θελετε να πάρετε μέρος στο διαγωνισμο, απλά χρησιμοποιήστε το rafflecopter και κερδίστε περισσότερες συμμετοχες!
Winner will be announced on 1st of June. Good Luck!
Η νικήτρια θα ανακοινωθεί την 1η του Ιουνίου. Καλη σας τυχη!
mats mouts
PS. I am proud that the specific Jewelry making tutorial is also in the Learning Center Blog of Pandahall!
P.S This Giveaway is also sponsored βy mydiagonismoi , kerdiseto , ediagonismoi, saveandwin,  likekaikerdise, paiksekerdise , diagonismos , nethall,  paredoraki and by e-contest.