How to Decorate your Summer Tote Bag with pom pom and bows! Add color and sparkle in your dailylife! An easy craft for everyone!
A few days left!!! Oh yes… few days left and I will be in my favorite Crete! You cannot imagine how thrilled we are, especially the kids! That's why the past days, we are full of crafts, since we are trying to finish what we want to have with us on our vacation. The Funky Hats are ready and now it was about time to finish my Tote Bag!!!! I wanted it cute and with pom pom of course!!!!! The best part is that you only need 30 minutes to finish it!
Materials to make a Summer Boho Chic Tote Bag:


– Tote Bag (got mine from here)
– Fabric Paint
– Stencil (got it from here)
– Paint Brush
– Pom Pom
– Pom Pom Ribbon
– Glue for Fabrics (got mine from here)
Yes I know… the specific tote bag is really cute and it was easy to keep it as it is. But again, you know me! I want pom pom everywhere this period so I couldn't resist to add a few details! Bows and pom pom are just perfect! In my favorite coral color which in coombination with mint green is absolutely gorgeous for the Summer! The procedure is really easy. My friend Helen from Craft With Mom  actually shared this idea on our Craft Party Vol 3 and since then I have used it also in my Valentines Pillow and now on my Summer Tote Bag!
Place a cooking paper inside the tote bag, in order not to allow the color to painte both sides. Stabilize the stensil on your tote bag and apply color with your brust. Remove carefully the stensil and allow to dry.
And now the pom pom!!! One way to add them on the bag is actually by sewing. I have to admit that this time I wanted an easy craft and I was really bored to spend more time on this bag…yes I know! So the Glue for Fabrics solved my problem and the specific one is really strong! Apply glue on your pom pom and decorate your bows!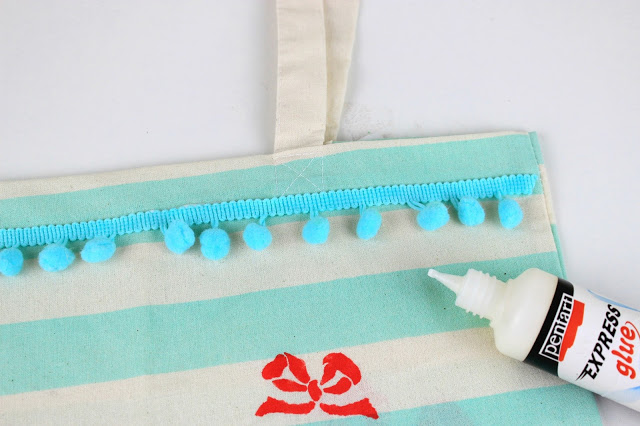 Last but not least, let's make it more…you know… Boho Chic! So more pom pom on a ribbon! again apply glue for fabrics and decorate your tote bag. Allow it to dry for a few hours and then iron is carefully in order for the color to be more stable. Just use again cooking paper to cover the bows while using the iron!
My bag is ready! My princess enjoyed it so much, that we have prepared one more for our teacher!
So…how Boho Chic are you??? Are you Pom Pom lover like me????