DIY How to make Decorative Flowers from Paper. A simple idea to create beautiful paper flowers for your home decor or evenwrapping the gifts!
It might be officially Spring here, but the weather is not convincing. So we've decided to bring Spring and flowers closer with a handmade bouquet with paper flowers. I have already tried in the past many ways to create flowers from paper, and I have concluded to this easy craft.
 What will we need:
– Colorful scrapbooking papers
– Scissor or paper trimmer if we have one
Procedure
Cut the papers in pieces at the same length and width (we cut them 20*4cm). For each flower we are going to need two paper strips. Fold the paper in order to create expanders. 
Use the hot glue to close the papers and create a circle.
Pull the paper edges in the center and while we hold tight the flower we add some hot glue. Keep it for a few minutes for the glue to dry and for our construction to be more stable. Have in mind that the trick that will hold the flower stable is a paper circle that we are going to put in the centre. Instead of a circle we used a small paper flower that we created with our favorite paper puncher. Optionally we can decorate more the flower edges with a paper trimmer.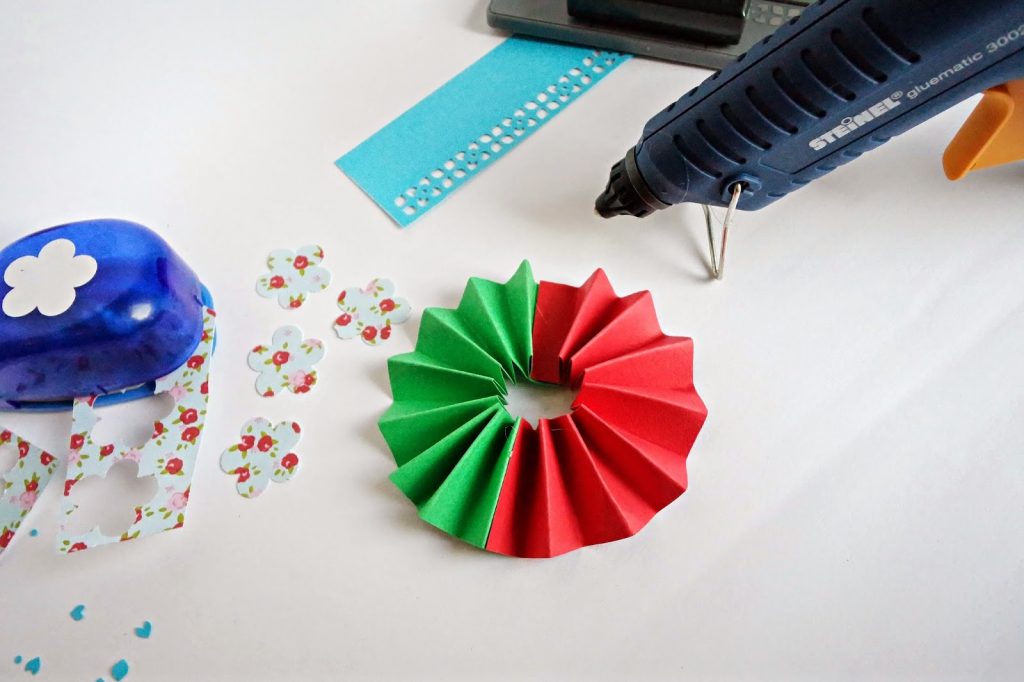 With these beautiful paper flowers we can decorate a wishing card.
We can also use them to wrap a gift or to create sticks for a baby party decoration.
How are you going to use these flowers?
***************************************************
I really adore this kind of crafts…easy to make with common materials and it can be something that can do with your kid…and last but not least, we can use them everywhere! Eleftheria, this is an amazing idea and I am honored your shared it with us in EfZin blog!
And if you do not know Eleftheria and her amazing blog (or in facebook, Pinterest, G+ ), just go and check it as soon as possible. I am pretty sure that you are going to love her creations, her ideas and of course her advice and information about healthy food or everyday life tips. After all we can Make our Own Life!